Shred Vault Bags are convenient, affordable, and most importantly secure. This revolutionary way to protect your information and in turn your identity is completely different because it doesn't require equipment, won't waste your time or create a mess and takes place at your convenience with a frequency that works for your lifestyle. Now that you have made the commitment to reduce your risk by incorporating Shred Vault Bags into your routine and your home, what's next?
One Time—Clearing the Clutter
If you're like most of us and you haven't used your home office shredder recently or perhaps you don't even own one you may have a backlog of confidential information ready to shred. Simply fill your Shred Vault Bag(s) and head to your nearest deposit location. You're not only reducing the number of things you no longer need to keep around the house, but you've made a step towards protecting yourself and your identity with secure, documented shredding.
All the Time—Creating the Place
Getting rid of what you've stored up is one thing but keeping on top of the day to day is another. The fact is we generate paper: from mail to magazines to bank statements to items from work and school. The sources add up and often the paperwork contains personal and identifying information. It's common to be tempted by the trash or recycling container, but don't.
Shred Vault offers a safer, environmentally friendly option. Collect, deposit, shred and recycle. Dedicate a space that is convenient and easily accessible for your day to day items. If you can tear it, you should shred it. Fill your bag over the course of a few days or even a month. When it's full simply seal, deposit and replace with an empty bag.
Using the mechanism that works best
Over the cabinet towel hanger
Using an over the cabinet towel hanger allows you to either expose or conceal your Shred Vault Bag. Simply place it on the top of the cabinet and secure the top using binder clips or clothes pins. Once you've filled your bag simply remove it, seal it, and visit your nearest Shred Vault to deposit.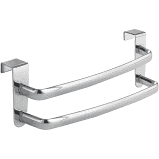 Reusable grocery bag
A reusable grocery bag provides another easy and environmentally friendly option. Place the Shred Vault Bag inside the reusable bag and turn the top sides over.  Now that the bag can stand on its own select a place in your home that is convenient. Once full remove the Shred Vault Bag from the reusable bag, seal it, and use the convenient app to deposit your bag at the nearest Shred Vault.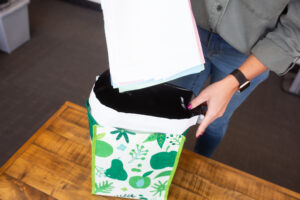 Simple transfer process
Perhaps the easiest way to use your Shred Vault bag is to transfer the confidential documents needing destroyed directly into the bag as needed or all at once. Once the bag has reached capacity, seal the bag then head to your local Shred Vault to deposit with confidence.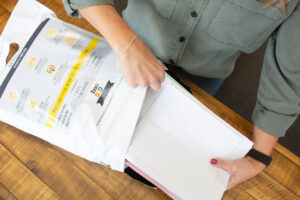 What Goes In?
Anything that contains your personal information should be destroyed including:
Financial Statements
Medical Records
Bank Statements
Tax Documents
Receipts
Mail and Magazines
Notes and documents
Schoolwork
Office Records
The Shred Vault system provides an easy, efficient and more environmentally friendly way to dispose of confidential information than your traditional office shredder. Plus, it is trackable. Something a home office shredder or unsecured drop off location cannot provide. Relax and take the risk and hassle out of document shredding and your Shred Vault bags today.