Oakview Plaza – located in the Wine, Beer, and Spirits store, south of Oakview Mall
Full-service, secure shredding experience for businesses and residents.
Shredding Made Easy with Shred Vault®
Our process offers efficient and secure shredding.
Fill our bag with up to 10 pounds of confidential documents.
Drop-Off at Shred Vault Kiosk
Choose a convenient location to drop-off your barcoded bag.
Oakview Plaza – located in the Wine, Beer, and Spirits store, south of Oakview Mall
3435 Oak View Dr, Omaha, NE 68144
While information can now be stored online, you still accumulate physical documents that contain your personal information over time, such as credit card applications, birthday cards, or pay stubs. If they aren't disposed of properly, dumpster drivers can steal that information and use it for fraudulent purposes, like identity theft.
When you have a ton of paper clutter laying around your home or office, it can be hard to focus on the task at hand and having those papers out in the open can also cause a security risk.
With a document shredding service, you can protect your sensitive information easily while removing extra paper clutter and keeping your files organized. It also helps protect your client's information which is essential as doing so makes your business compliant with privacy laws. Using our paper shredding services provides a secure and convenient way of disposing of those documents so your mind can be at ease.
A secure automated deposit place for full Shred Vault bags is located conveniently inside Wine, Beer and Spirits. You can purchase Shred Vault Bags at participating stores or online, then fill them up and deposit them. The bags are capable of holding a maximum of 10 pounds. Shred Vault stores your sensitive documents in a secure, tamper-proof container, where they await pickup by a nationally certified shredding company.
Shred Vault provides secure, dependable document shredding services in Omaha, Nebraska. The highly trained professionals on our team are fully compliant with HIPAA, FISMA, FACTA, and GLBA so that we will handle your document destruction needs of residential homes and businesses of all types.
We offer a range of shredding services that can be personalized to meet your individual needs, including one-time purge service for a large or small, scheduled shredding service, or a shred event. Fill out the form above or give us a call today if you have any questions about shredding.
Choose Shred Vault® Today
If you have more questions, feel free to consult our Frequently Asked Questions page or give us a call at (402) 810-7981
One of our highly trained staff would be more than happy to answer your questions!
Papillion Residential Shredding with Shred Vault
Identity thieves may think they have struck gold with the amount of personal information on your old documents that you have thrown away. Do you have old tax records, receipts, or prescriptions that need to be disposed of? It's easy to do so with Shred Vaults. With the Shred Vault Bag, you can destroy up to 10 pounds of paper (without removing paper clips or staples). Papillion has many kiosks across the city where you can drop them off.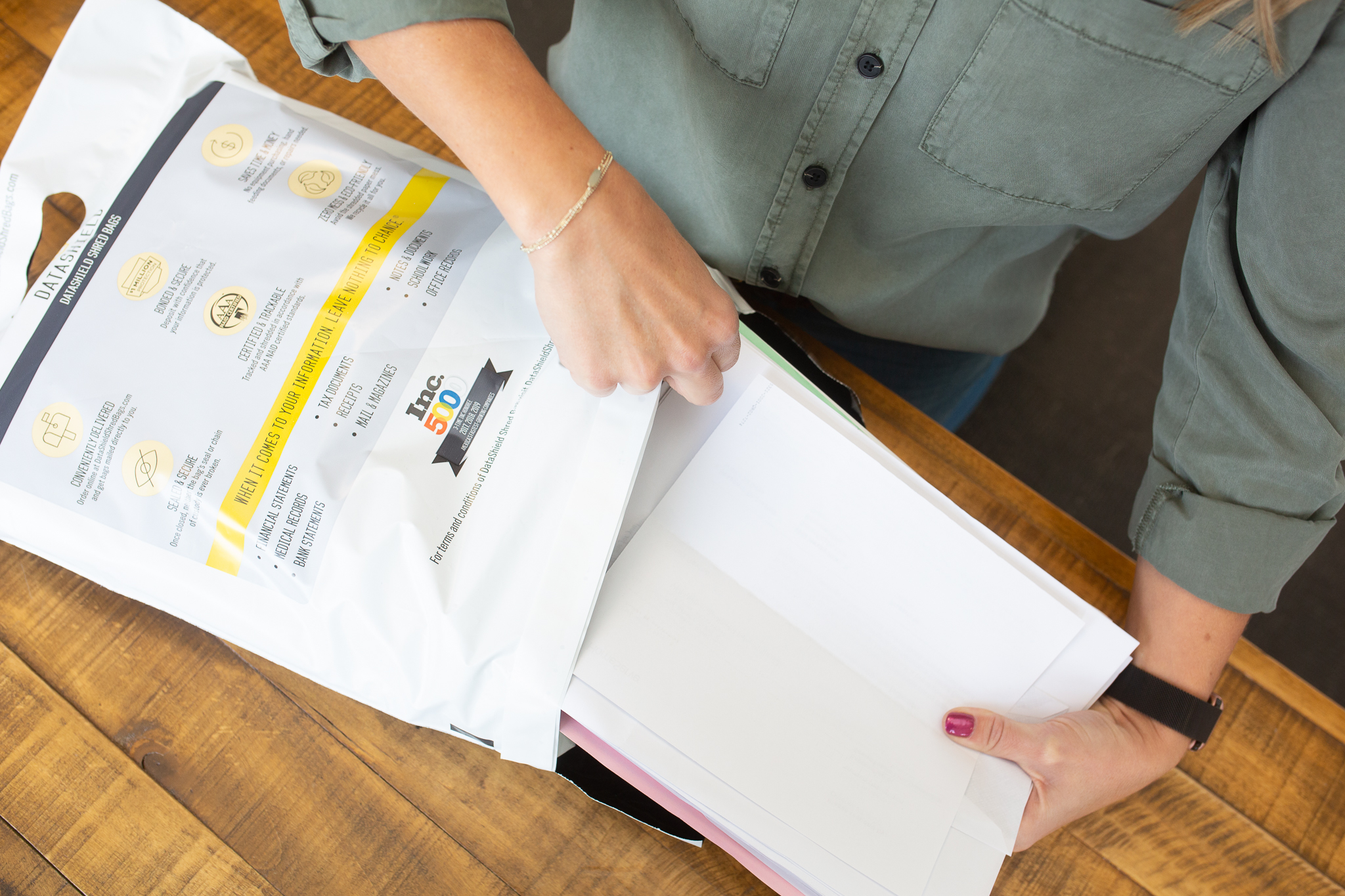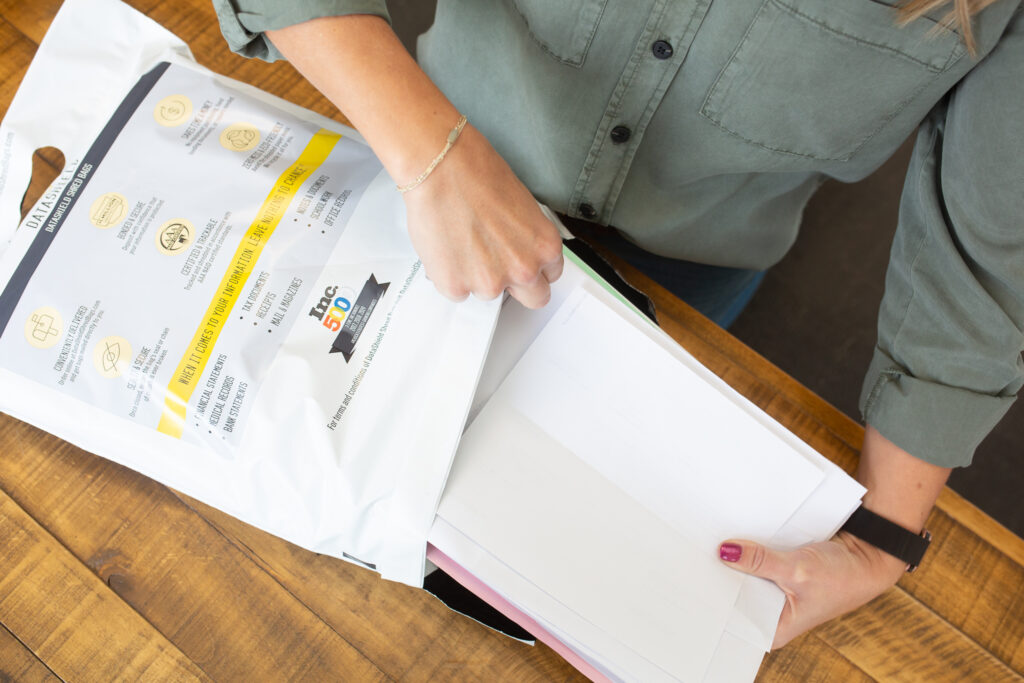 Papillion Businesses Choose Shred Vault for Employees Working from Home
Even if your employees work remotely, protecting confidential information is still your responsibility as an employer.  With a monthly subscription, you can purchase Shred Vault Bags for your employees. Plus, you can keep track of your employees' deposits easily. We use certified destruction to meet compliance requirements.
What if I need high volume shredding?
If you have banker boxes that need shredding, we can send a truck to you. Just let us know.
Shred Vault provides the most secure shredding services available for Papillion, NE businesses and residents. Here are a few reasons why you can rely on us for secure shredding:
No longer will scheduling shredding services be an issue. We offer drop-off locations where you can drop off confidential materials at your convenience. Additionally, you will not have to make a trip to a shredding facility to drop off your documents anymore.
The process of shredding has never been more straightforward. Order your bags online, have them delivered to your home or office, and drop off your documents whenever convenient for you.
You can choose from a variety of shredding options to find a service that meets your needs. Your company doesn't have to worry if a lot of documents are produced. We make shredding higher volumes easy for you, whether you are a homeowner or a business. Shred events are also available.
Using Shred Vault guarantees that you are utilizing a reliable and professional paper shredding service. Our bags are monitored and secured off-site throughout the entire process. The shredding process we use is NAID AAA Certified, which ensures that shredded materials are destroyed securely.
By shredding your documents, you make it impossible for dumpster divers to steal your personal information. Businesses have the legal obligation to destroy confidential information per federal and state laws. Document destruction has several benefits, but these are a few of the more important ones:
Peace of mind is our goal for you, your employees, and your customers.

Organize your paperwork and declutter your space.

After the documents have been destroyed, we recycle them 100 percent. Towels and tissue products are made from shredded materials by Shred Vault.
See what Shred Vault® can do for you!
The Shred Vault System solution to shredding explained.
Do you need high volume shredding?
We can even arrange for ongoing shredding at your office.
Oakview Plaza – located in the Wine, Beer, and Spirits store, south of Oakview Mall
3435 Oak View Dr, Omaha, NE 68144