Located on northeast corner of South 72nd Street and Highway 370 – inside the iFixOmaha store
Full-service, secure shredding experience for businesses and residents.
Shredding Made Easy with Shred Vault®
Our process offers efficient and secure shredding.
Fill our bag with up to 10 pounds of confidential documents.
Drop-Off at Shred Vault Kiosk
Choose a convenient location to drop-off your barcoded bag.
Located on northeast corner of South 72nd Street and Highway 370 – inside the iFixOmaha store
11425 S 72nd St, Papillion, NE 68046
If you're looking for a secure shredding company in Papillion, it's very likely that you or your company deals with sensitive papers on a regular basis. These documents will almost certainly be about your business, your clients, or both. Regardless, these sensitive papers must be handled with extreme caution and disposed of in the most secure manner possible in accordance with their retention terms.
Furthermore, allowing sensitive consumer information to slip into the wrong hands can have terrible consequences for your company's reputation. It is also important that sensitive information be handled professionally. Failure to secure sensitive data might be disastrous for your company and result in legal action being taken against you.
The Shred Vault is conveniently located within iFixPapillion Papillion, where you can deposit your full Shred Vault Bags for safekeeping until they are ready to be picked up. Get your Shred Vault Bags at one of the participating locations or online, then fill them up and deposit them. The Shred Vault Bag is capable of holding up to 10 pounds of material. In Shred Vault, you will find a secure, tamper-proof shredding container where sensitive data will be stored, awaiting pickup by a nationally accredited shredding company.
The Shred Vault provides highly secure document shredding services in Papillion, NE, that meet HIPAA, FISMA, FACTA, and GLBA standards. Our knowledgeable staff can handle any document destruction needs for both individuals and business customers in Papillion.
A customer can also schedule regular shredding services, hire a one-time shredding service for a small volume of confidential documents, or organize a shredding event through Shred Vault. Contact us today or fill out our form above.
Choose Shred Vault® Today
If you have more questions, feel free to consult our Frequently Asked Questions page or give us a call at (402) 807-0107
One of our highly trained staff would be more than happy to answer your questions!
Residential Shredding in Papillion with Shred Vault
Considering all the personal information on documents, identity thieves may think they have found gold. Have you got old tax records, receipts or prescriptions that need to be destroyed? With Shred Vaults in your area, it's simple. Simply fill up our Shred Vault Bag with up to 10 pounds of paper (no need to remove those pesky staples or paper clips). Then drop them off at one of the many kiosks located conveniently throughout Papillion.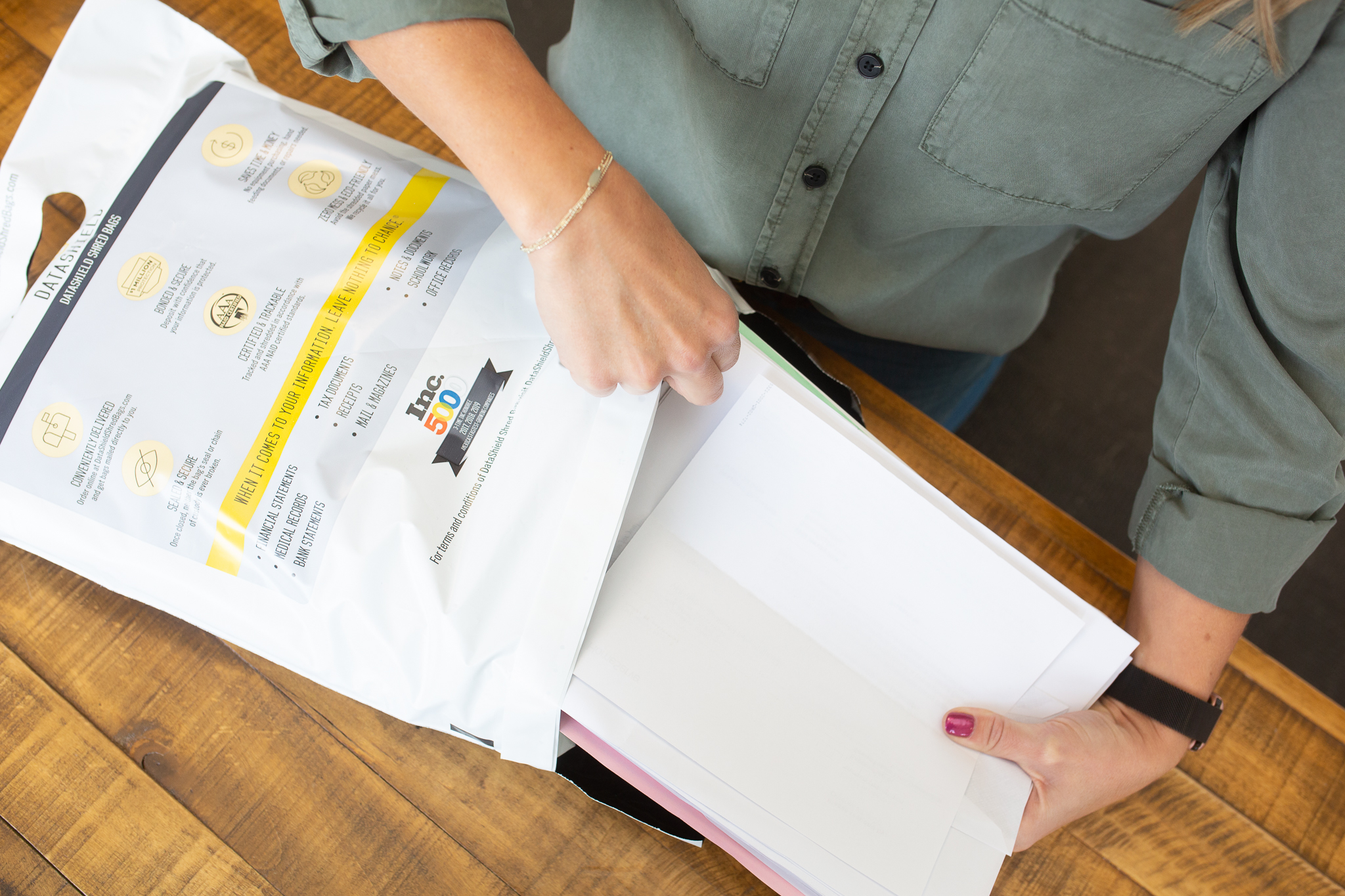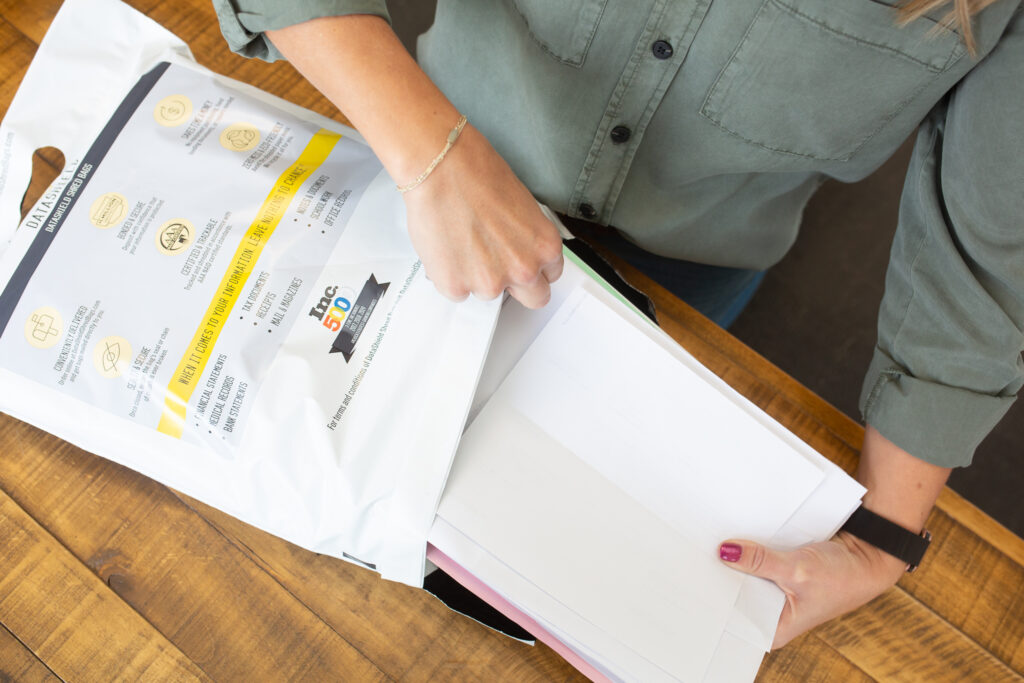 Papillion Businesses Choose Shred Vault for Employees Working from Home
It is still your responsibility as an employer to protect confidential information, even if your employees work remotely.  Shred Vault Bags can be purchased for your employees with a monthly subscription. Plus, it's easy to keep track of your employee's deposit. To ensure compliance, use our certified destruction process.
What if I need high volume shredding?
If you have banker boxes that need shredding, we can send a truck to you. Just let us know.
Shred Vault offers the most secure shredding solutions for your business or residence in Papillion, NE. You can count on us for secure shredding because of the following reasons:
Scheduling shredding services will no longer be a concern. At a location near you, you can drop off confidential materials when it's convenient for you. In addition, you will no longer have to travel to a shredding facility to drop off your documents again.
Never before has shredding been so easy. Bags are ordered online, delivered to your home or office, and you drop off your documents when it is most convenient for you.
We have several shredding options to choose from, so you can find that perfect service for you. There is nothing to worry about if your company produces a lot of documents. Whether you're a business or a homeowner, we make sure shredding higher volumes is easy. We also host shred events, if you're interested!
You can use Shred Vault confidently, knowing you are using a reliable, secure service. All bags are secured and tracked in our vaults off-site to ensure your bags are safe throughout the entire process. The shredding process that we employ is NAID AAA Certified to guarantee the destruction of the shredded materials.
Dumpster divers can't steal your personal information from your documents if you shred them. In compliance with federal and state laws, businesses must destroy confidential materials. There are many reasons to shred your documents, but here are some of the most important ones:
● Peace of mind for you, your employees, and your clients.
● Declutter your space and organize your paperwork.
● We recycle 100 percent of your documents once they have been destroyed. Using shredded materials, Shred Vault makes tissue products and towels.
See what Shred Vault® can do for you!
The Shred Vault System solution to shredding explained.
Do you need high volume shredding?
We can even arrange for ongoing shredding at your office.
Located on northeast corner of South 72nd Street and Highway 370 – inside the iFixOmaha store
11425 S 72nd St, Papillion, NE 68046