Located in Omni Centre Business Park
Full-service, secure shredding experience for businesses and residents.
Shredding Made Easy with Shred Vault®
Our process offers efficient and secure shredding.
Fill our bag with up to 10 pounds of confidential documents.
Drop-Off at Shred Vault Kiosk
Choose a convenient location to drop-off your barcoded bag.
Located in Omni Centre Business Park
300 W. Broadway, Council Bluffs, IA 51503
Shred Vault is conveniently located inside Omni Business Park at 300 W. Broadway in the heart of downtown Council Bluffs, IA near the 100 Block, restaurants, and Bayliss Park. The Omni Centre is a multi-tenant office complex with covered parking, on site management/maintenance, and on site security providing a secure and convenient location to deposit your Shred Vault bags. Shred Vault Bags can be purchased at participating stores or online, then filled and deposited. 
There is a 10-pound capacity for each Shred Vault bag. Shred Vault will store your sensitive material in a secure, tamper-proof shredding container, where it will be picked up by a nationally certified shredding company as scheduled.
Paper shredding services are available through Shred Vault in Omaha, Nebraska. Document destruction needs for residential homes and businesses across all industries can be handled by our experienced team, which is HIPAA, FISMA, FACTA, and GLBA compliant.
Our team is ready to help if you require regular shredding services, a one-time shredding service for a large volume of confidential documents, or need help hosting a shred event. You can get in touch with us by filling out the form above.
Choose Shred Vault® Today
If you have more questions, feel free to consult our Frequently Asked Questions page or give us a call at (402) 807-2803
One of our highly trained staff would be more than happy to answer your questions!
Residential Shredding with Shred Vault
When identity thieves see how much personal information is on your old, discarded documents, they may think they have struck gold. Are your old tax records, receipts, and prescriptions cluttering up your house? With Shred Vaults, you can safely shred them. Up to 10 pounds of paper can be destroyed with a Shred Vault Bag (without removing staples or paper clips). Drop them off at one of the many kiosks throughout the city.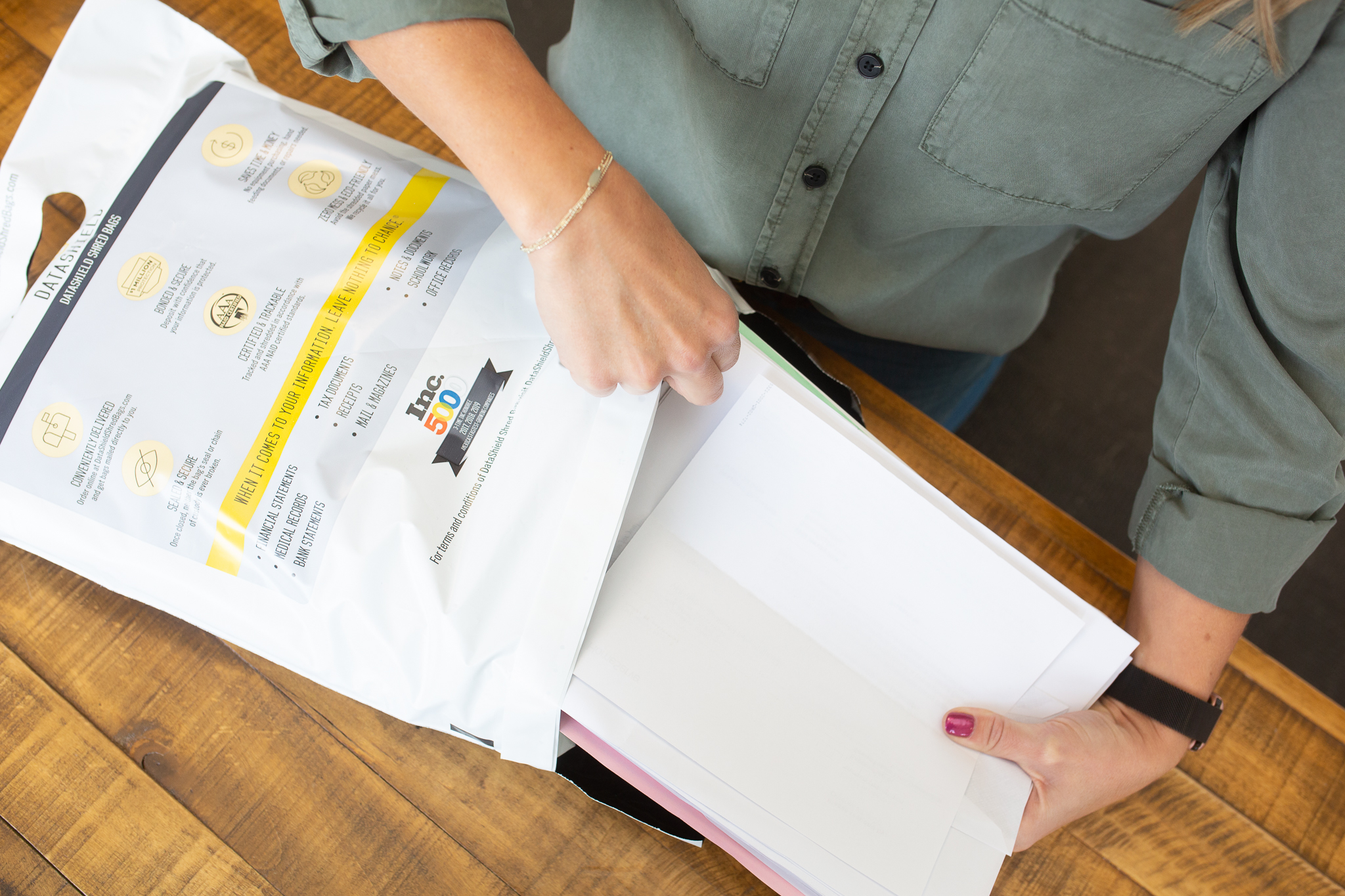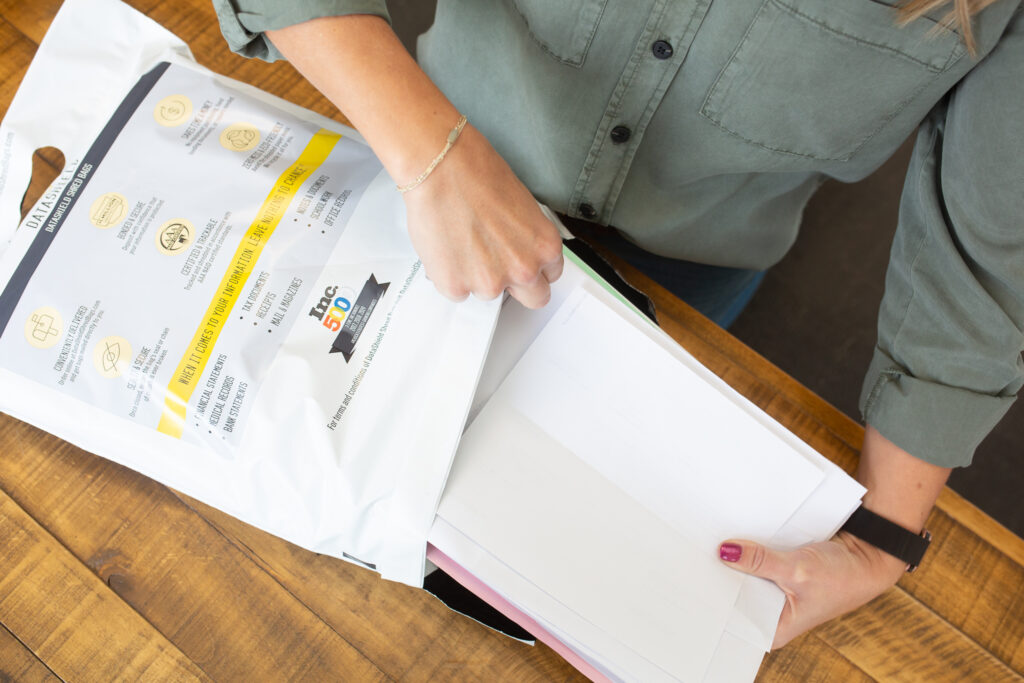 Omaha Businesses Choose Shred Vault for Employees Working from Home
As an employer, you're still responsible for protecting confidential information, even if your employees work remotely.  The Shred Vault Bags can be purchased for your employees on a monthly subscription basis. Additionally, employees' deposits can be tracked easily, so you know the documents are destroyed securely. Compliance requirements can be met with certified destruction.
What if I need high volume shredding?
If you have banker boxes that need shredding, we can send a truck to you. Just let us know.
Businesses and residents in Omaha, NE, can trust Shred Vault to offer the most secure shredding services. Why you can trust us with secure shredding:
Scheduling shredding services will no longer be a problem. We offer convenient drop-off locations where you can drop off your sensitive documents whenever you need it most. It will also save you the hassle of making a trip to a shredding facility.
There has never been an easier way to shred. Put your order online, get the bags delivered to your home or office, and drop off the documents when it is convenient for you.
Offering a variety of services allows us to handle the shredding needs of businesses and homeowners of all types. There is no need to worry as we make shredding larger volumes easy for anyone, regardless of whether they are homeowners or businesses. We also host shred events.
By using Shred Vault, you ensure that you have access to a professional and reliable paper shredding service. During the entire process, we monitor and secure all bags off-site to ensure security. Our company uses NAID AAA Certified shredding, which guarantees the security of shredded materials.
Dumpster divers are unable to obtain your personal information if you shred your documents. All businesses must destroy their confidential information according to state and federal laws. There are several benefits to document destruction, but here are a few of the most important ones:
We are committed to ensuring you, your staff, and your customers have the peace of mind that they deserve.

Reduce clutter and organize your paperwork.

Shred Vault recycles 100 percent of the shredded paper bits after every service and is made into paper tissue and towel products, ensuring that it doesn't end up in a landfill.
See what Shred Vault® can do for you!
The Shred Vault System solution to shredding explained.
Do you need high volume shredding?
We can even arrange for ongoing shredding at your office.
Located in Omni Centre Business Park
300 W. Broadway, Council Bluffs, IA 51503