Cass Court Shopping – Located inside the iFixOmaha store, south side of Cass Street
Full-service, secure shredding experience for businesses and residents.
Shredding Made Easy with Shred Vault®
Our process offers efficient and secure shredding.
Fill our bag with up to 10 pounds of confidential documents.
Drop-Off at Shred Vault Kiosk
Choose a convenient location to drop-off your barcoded bag.
Cass Court Shopping – Located inside the iFixOmaha store, south side of Cass Street
7637 Cass St, Omaha, NE 68114
With an abundance of our information now online, you may be wondering if shredding services are necessary. From birthday cards to credit card applications, we still produce an abundance of physical documentation that can leave us vulnerable to identity theft, fraud and dumpster divers.
But with all of these papers lying all around, focusing on your work may not only be challenging, but it can also put you at risk. Shredding your documents is a simple and secure solution.
With us at Shred Vault, you can get the best paper shredding services to get rid of any extra papers while maintaining compliance.
Located conveniently inside iFixOmaha on Cass St, Shred Vault gives a secure automated deposit location for the full Shred Vault Bags. You can buy your Shred Vault Bags online, fill them up and deposit them conveniently at this location.
Shred Vault gives access to the super-secure paper shredding services in Omaha, NE. Our experienced team is FISMA, HIPAA, and GLBA compliant and may also handle any document destruction requirements for business and residential needs.
Every Shred Vault bag can contain over ten pounds of your confidential documents. Your sensitive material will also be stored in a secure, tamper-proof shred container in the Shred Vault, awaiting the scheduled pick up by the nationally certified shredding company.
We will help you eliminate all of the extra papers around you and make your business operations clutter-free. You will very greatly benefit from the way paper shredding can free up space in your home or office. We also offer a variety of shredding services in Omaha to suit your needs.
Choose Shred Vault® Today
If you have more questions, feel free to consult our Frequently Asked Questions page or give us a call at (402) 704-4920
One of our highly trained staff would be more than happy to answer your questions!
Residential Shredding in Omaha with Shred Vault
Any documents that contain personally identifiable information (PII) could be a gold mine for the identity thieves. Do you have your old tax records, prescriptions, receipts, or records at your Omaha home that need to be destroyed?
Shred Vault will make it all easy for you. Now, there isn't any need to throw all of your extra papers in your basement or your attic. We are here to clear away all of the mess you have around your house that contains sensitive information.
Just fill up a Shred Vault Bag with the documents you wish to destroy, then deposit it at any of our convenient kiosks in Omaha. We will keep your information secure and, by using our app, you will receive notifications regarding the whole process for peace of mind.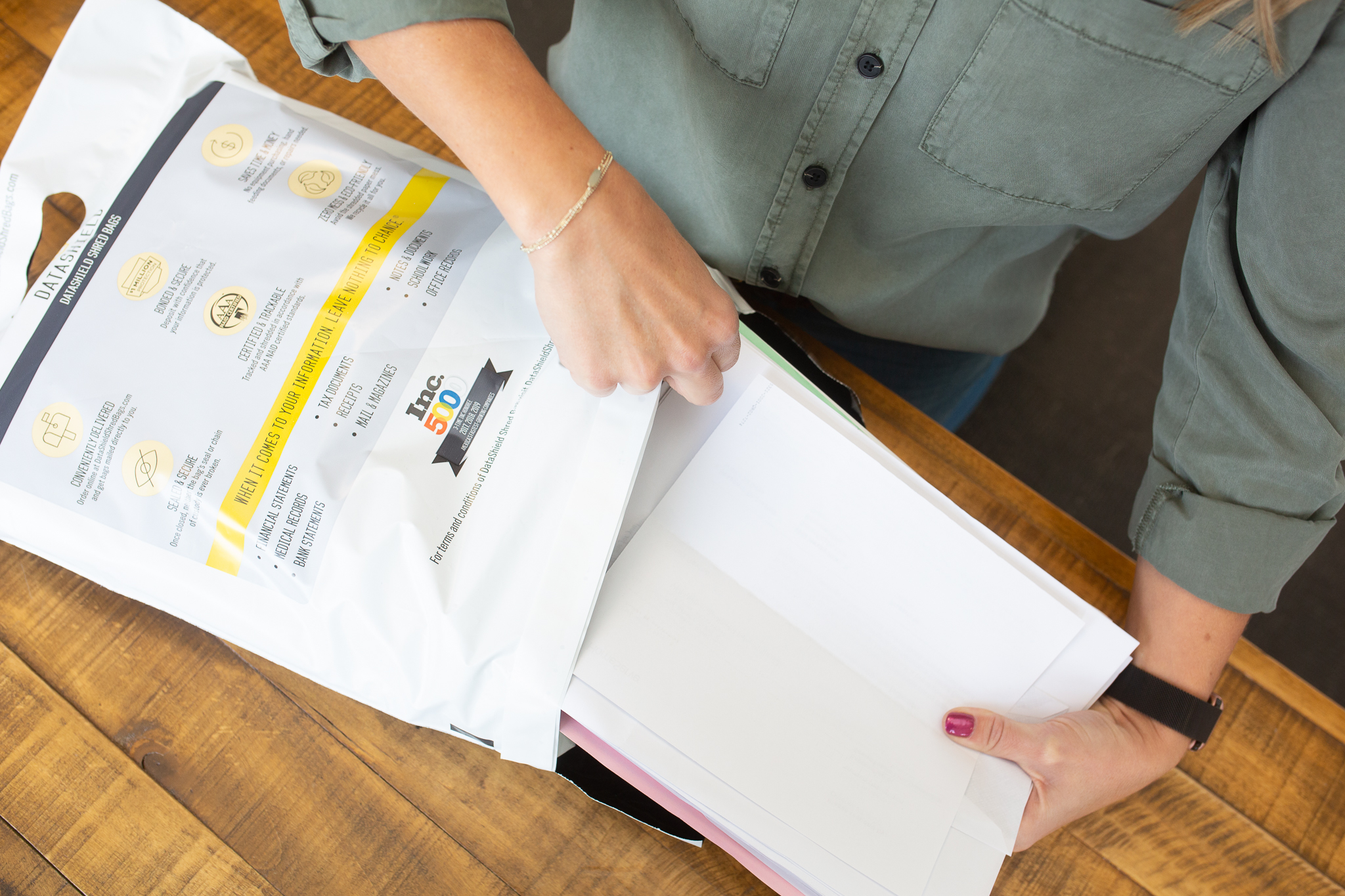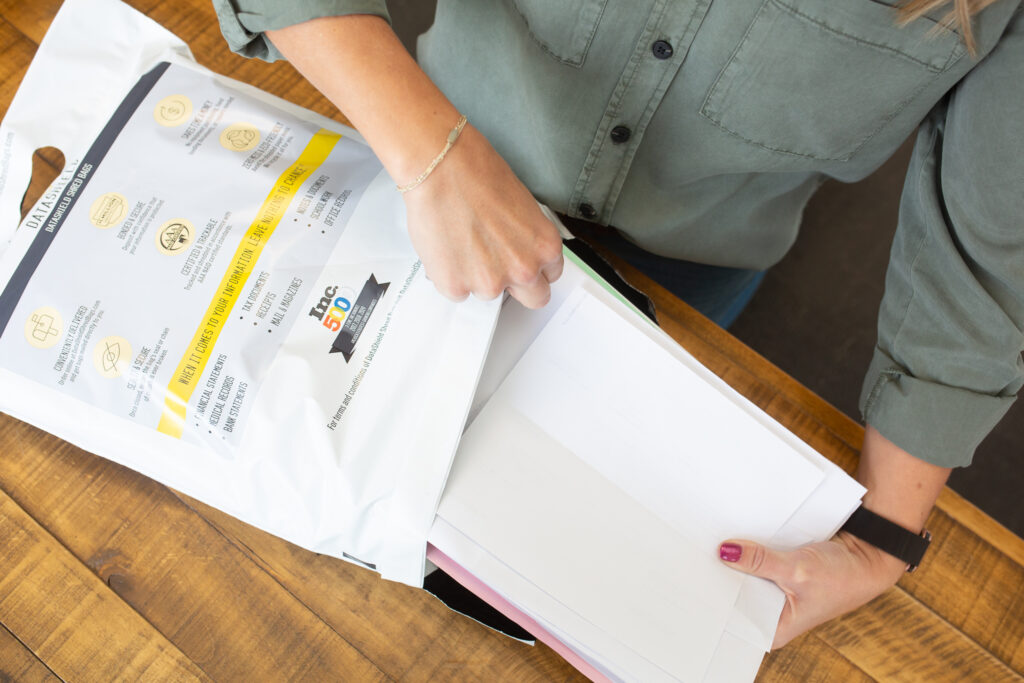 If you are running your at-home offices or have bundles of documents to shred, bring them to us, and you are all set. You will get rid of all of these documents, and you won't have to remove any of the paper clips or pins from them.

At home, offices are all led by individuals, and if not dealt with care, you may have too much paper cluttering your space. Shredding these documents is the best solution. We will offer you the best and most convenient paper shredding services to make your life a lot easier!
Work From Your Omaha Home Safely with Shred Vault
Even if your staff is working remotely, employers still have the duty to protect confidential information. Working from home, employees may have a lot of papers around them, and you don't want your company information to be put at risk.
By using Shred Vault, you ensure compliance is guaranteed by using our certified document destruction process. Your employees will have the option to drop off their documents whenever it suits them best.
What if I need high volume shredding?
If you have banker boxes that need shredding, we can send a truck to you. Just let us know.
Shred Vault is the right choice for secure and safe shredding solutions, whether you are a resident or a business operating in Central Omaha. Here's why you should choose our services:
Shredding has never been this easy. You order the bags online, they reach your home or the office, and you then drop off your documents all when it best suits you.
You will never have to worry about scheduling shredding services again. You can drop off your confidential documents when it fits into your schedule at a location near you. Furthermore, you will never have to visit a shredding facility again.
You will never have to worry about scheduling shredding services again. You can drop off the confidential materials you have at your workspace whenever it suits your schedule at any location near you.
Furthermore, you will never have to drive to drop off the documents at an on-site shredding facility ever again, so you will save on gas money. This is the beauty of Shred Vault services: it's whenever it suits your schedule!
We offer a number of Shred Bag sizing options to suit your needs. If your business produces a lot of documents, you need not worry at all. We will make sure that it is easy for businesses or homes to shred a bigger volume of documents. If you are keen on Shred Events, we plan them as well!
Most importantly, you can trust that you're using highly secure and reliable services when you choose Shred Vault. Our vaults are all monitored off-site 24/7 to ensure that your bag is secured and tracked throughout the entire process.
We also ensure that all shredded materials are fully destroyed through a NAID AAA Certified shredding process.
Document shredding is your line of defense against dumpster divers, fraud, and identity theft. Federal and state laws dictate that businesses must securely destroy confidential materials. While abiding by the law is a noteworthy reason, there are other important reasons to shred your documents as well:
● Provide peace of mind for your clients, employees and yourself
● Reduce clutter and save space
● Rest assured that your documents are 100% recycled following the destruction process. At Shred Vault, all shredded material is recycled into tissue and toweling products.
See what Shred Vault® can do for you!
The Shred Vault System solution to shredding explained.
Do you need high volume shredding?
We can even arrange for ongoing shredding at your office.
Cass Court Shopping – Located inside the iFixOmaha store, south side of Cass Street
7637 Cass St, Omaha, NE 68114