Protecting You & Your Organization from a Data Breach
Confidential information is everywhere. At the office and at home your paperwork contains the personal and proprietary information that identity thieves are looking for.
Throwing confidential documents in the trash or recycling bin leaves you at risk for identity theft, credit card fraud, and business liability. Don't compromise your confidential information, let us help.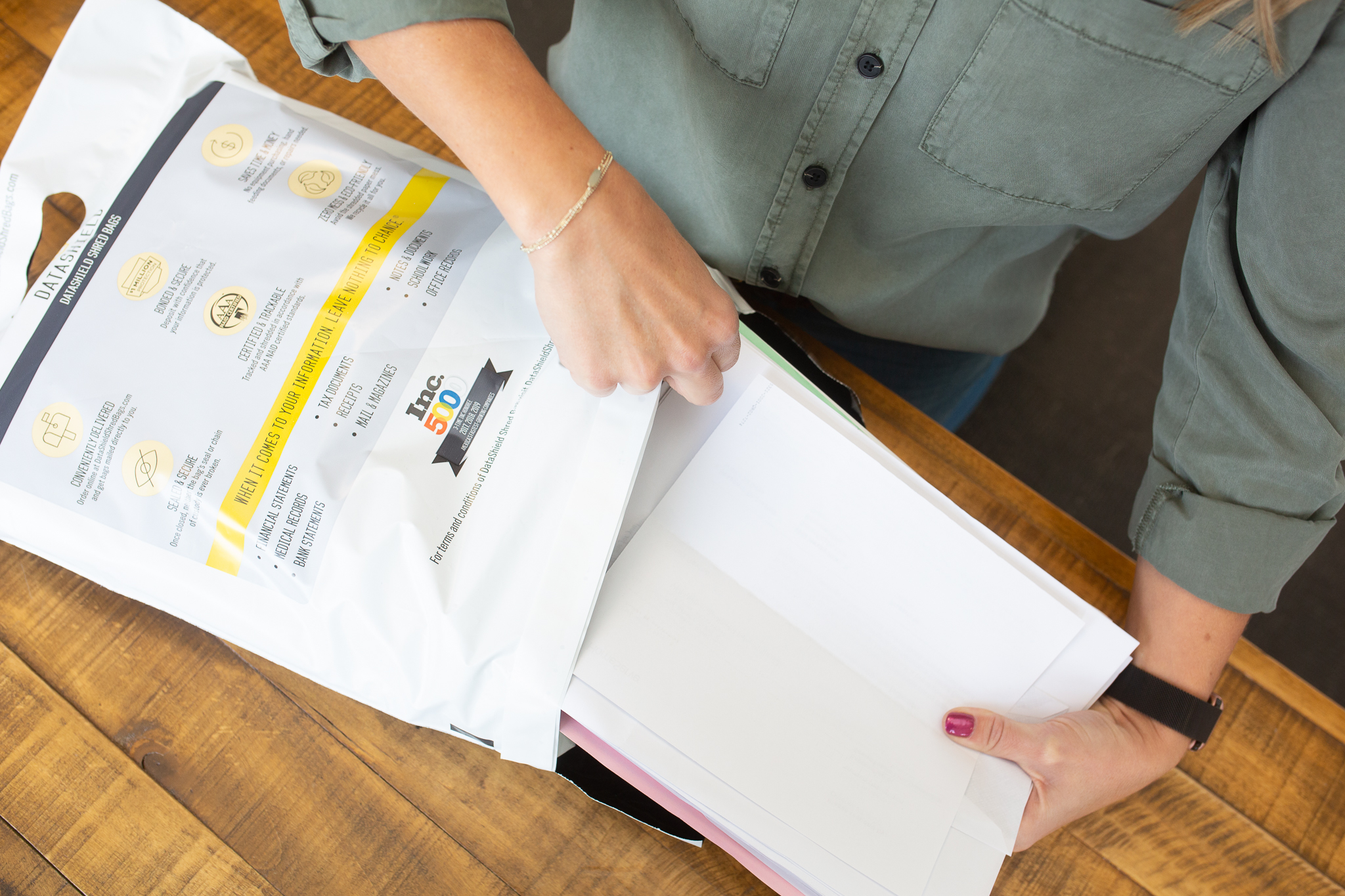 The Shred Vault® System combines the Shred Vault® Bag with a web-based network of secure Shred Vaults® (depository kiosks) operated through an easy to use app. Shred Vault® Bags are ordered online or through the app and delivered directly to you. Once filled with up to 10 pounds of paper seal your Shred Vault® Bag and check the app for a Shred Vault® near you. The best part of the Shred Vault® System is all paper documents are securely maintained, tracked and fully recycled.
Scheduled Paper Shredding Service
Take the stress out of planning and preparing to destroy your sensitive documents with a document destruction service tailored and customized to your schedule. Select the container, frequency and type of service: mobile or plant that is right for you, then rest assured. Regular, consistent information destruction is the best way to keep you and your workplace secure and compliant. With scheduled paper shredding service, you are always protected from identity theft and fraud.
One Time Shredding Service
Keep your private information private. We all have information to shred, but how often you require confidential document destruction is dependent on your unique needs. Individuals and businesses may not produce a large enough volume of documents to have a professional shredding company visit weekly or monthly. When that is the case, one-time shredding services provide a secure and efficient solution to shredding hundreds (or even thousands) of pounds of documents quickly, all at once.
Hard drives contain vast amounts of personal and business information. Whether you are upgrading or disposing of an unused computer be aware that destruction is the only sure-fire way to get rid of your data. We offer high-speed onsite and plant-based shredding of media tapes, hard drives and data tapes with serial number capture to ensure you have proper tracking and proof of the destruction. You can expect the highest level of security and service for your project. Whether retiring a single desktop computer or updating an entire data center, we have a compliant, convenient solution for you.
No matter what your shredding needs are we can handle it. All our shredding services include a Certificate of Destruction. When it comes to information security and shredding there is nothing we can't do.